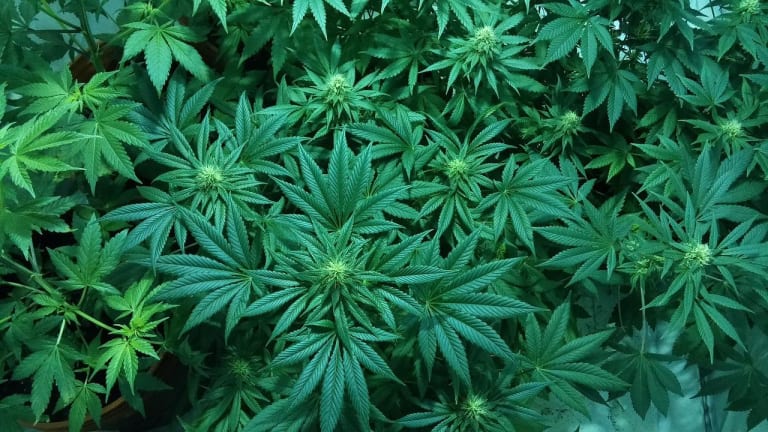 Cannabinoids & the People #2: MORE Act + THC for TBI + CBC & BCP
New Zealand finds cannabis grow on the grounds of Parliament
Hello everyone,
Subscribe here on Substack.

This newsletter only spreads by word of mouth – so please forward it to colleagues & share to your friends & elderly relatives. If you become a paid subscriber, there's no extra content, but your support allows me to produce more cannabinoid science content for the community.

As always, at the bottom there's a Living Glossary of cannabinoid terms along with the weekly music recommendation.
This week, the MORE Act passed the House, 7 CBD companies were hit with FDA warning letters for COVID claims & in science news, THC protects the brain of TBI patients, psychedelics might combine well with cannabinoids for Alzheimer's & MDMA was shown to help with the eating disorders of PTSD.
Also, I added entries for CBC & beta-caryophyllene to our Living Glossary at the newsletter's end.
On this end, it's fun to spread my wings as I get to do this newsletter for myself & not for a company. So I'm going to take Rob Brezny's advice & be more like my hero Giordano Bruno:
to be as eccentrically yourself as you want to be. Such as…
The Lex Files:
I just released a bonus episode of my podcast 'The Lex Files' & it includes the announcement that I'm taking this podcast solo. This means that I'm looking for sponsors for Season 3 as well as beginning the search for an audio engineer/producer who can help make this show self-supporting. If that's of interest to you or someone you know, reach out at lex@whitewhalecreations.com.
Reader's Questions:
An obvious first section to add to this newsletter is 'Reader's Questions'. Send in your questions about the science – or anything else – and I'll do my best to answer them.
Playing with Substack:
It's time to stretch our wings & experiment with the SubStack platform. Apparently you can like & comment on newsletters. To play along & see how the comments work, just post your favorite letter. If we get lucky, it will spell out a magic word for the week.
Big Thanks!
And quite importantly, I want to thank all of the people who have already become supporting members of this newsletter for $5 a month or $50 a year. I did not expect such an initial showering of support & you should know how much it means to me & our young family.
Resources:
Lastly, as a writer myself, I want to be diligent about sharing the people & resources that make this newsletter possible. So I'll start with Marijuana Moment. Tom Angell & Kyle Jaeger put out the absolute best daily cannabis newsletter around. If you want to stay current, you can't beat subscribing to this newsletter & supporting Tom's work on Patreon.
Now, here's your news…
Best of cannabinoid science...
In patients with traumatic brain injury, the use of THC before their injury led to no negative changes in outcome & was correlated to a decreased rate of hemorrhagic stroke
Thromboembolic Outcomes in Tetrahydrocannabinol-Positive Trauma Patients With Traumatic Brain Injury
https://pubmed.ncbi.nlm.nih.gov/35305485/
A review suggests exploring the cannabinoids & psychedelics for the symptoms of Alzheimer's
Cannabinoids and Psychedelics for Neuropsychiatric Symptoms of Alzheimer's: Addressing Disparities Through Clinical Trials
https://www.ajgponline.org/article/S1064-7481(22)00280-9/pdf
A review looks at how exercise activates the endocannabinoid system & prevents metabolic disorders
The Endocannabinoid System and Physical Activity-A Robust Duo in the Novel Therapeutic Approach against Metabolic Disorders
https://pubmed.ncbi.nlm.nih.gov/35328503/
In a mouse model of Parkinson's, CBD significantly improved motor deficits & protected the midbrain via the gut-brain axis
Effects of Cannabidiol on Parkinson's Disease in a Transgenic Mouse Model by Gut-Brain Metabolic Analysis https://pubmed.ncbi.nlm.nih.gov/35360659/
In a rat model of neuropathic pain, CBD & THCV worked together to reduce pain & protect the neurons via the CB1 receptor & a serotonin receptor
Role of Cannabidiol and Tetrahydrocannabivarin on Paclitaxel-induced neuropathic pain in rodents
https://pubmed.ncbi.nlm.nih.gov/35303507/
A new method for synthesizing CBD from the readily available starting material limonene
Stereoselective Synthesis of Nonpsychotic Natural Cannabidiol and Its Unnatural/Terpenyl/Tail-Modified Analogues
https://pubmed.ncbi.nlm.nih.gov/35289168/

My ad: Work with White Whale Creations
This newsletter is a free offering from White Whale Creations. I produce content for cannabis & psychedelic companies so keep me in mind & pass me along to the companies you love. #lookingtowork
I also offer individualized sessions for people & their families who want to use cannabis & CBD for their serious conditions like pain, insomnia, autoimmune disorders or just to live healthier. I know the products to recommend, how to go about finding what works for you & I have all the science to back it up. If you know anyone who would be interested, send them here: Cannabinoid Education Sessions.

the Headlines
The US House passes the MORE Act that would legalize cannabis
https://www.forbes.com/sites/willyakowicz/2022/04/01/us-house-of-representatives-pass-federal-cannabis-legalization-bill-more-act
I won't usually mention legislation under consideration because most bills don't pass into law (and I doubt this one will either), but the symbolism of this happening for only the second time in history is undeniable.
Relatedly, the Congressional Budget Office finds that if the MORE Act passes, it would generate $8.1B over ten years & lead to reduced incarceration of 37,000 person-years
https://www.marijuanamoment.net/federal-marijuana-legalization-bill-would-add-billions-in-revenue-and-reduce-prison-costs-congressional-budget-office-says/
'Positive Drug Tests Among U.S. Workers Hit Two-Decade High' (hattip to Michelle Morganti)
https://www.wsj.com/articles/positive-drug-tests-among-u-s-workers-hit-two-decade-high-11648603800
The figure has been rising for years – but now with an increased labor shortage, less & less companies are testing for cannabis (you wish they were stopping because it's an abomination of your rights – but we'll take whatever reason we can get).
Also, can we note the beauty of the fact that the senior scientist at Quest Diagnostics is named Dr. Sample.
(thanks to Instagram, I just learned that this someone having an appropriate name for their job is called an 'aptronym')
In a federal rebrand inside Biden's 2023 budget proposal, the National Institute on Drug Abuse would become National Institute on Drugs and Addiction

Dr. John Kelly @Johnkellymgh...NIDA is proposed to now be the, "National Institute on Drugs and Addiction"; NIAAA will now be, "National Institute on Alcohol Effects and Alcohol-Associated Disorders"; SAMHSA is now proposed to be the, "Substance use And Mental Health Services Administration" 2/3

Asa Waldstein shares on the details of the 7 CBD companies hit with FDA warning letters for implying COVID claims
https://www.linkedin.com/posts/asa-waldstein-989360b_warningletterwednesday-covid-covid19-activity-6914873926997192704-RAcT/
New Zealand is "weeding out the weed" after cannabis plants found sprouting on the grounds of Parliament
https://www.newshub.co.nz/home/new-zealand/2022/03/speaker-trevor-mallard-weeding-out-the-weed-after-suspected-cannabis-plants-sprout-on-parliament-grounds.html
This reminds me of a great scene that I never forgot from Steinbeck's 'Sweet Thursday'. There's a colorful character called Joseph and Mary Rivas with a history of petty crime who loves learning about chess from Doc because it's one of the only things at which you cannot cheat. Anyway, one of Joseph and Mary's greatest achievements was while working as the gardener for the Plaza in Los Angeles next to the city's main police station:
"At about this time the Los Angeles Police Department had a puzzle on its hands. Marijuana was being distributed in fairly large quantities and at a greatly reduced price. The narcotics squad conducted raid after raid without finding the source. Every vacant lot was searched from San Pedro to Eagle Rock. And then the countryside was laid out on graph paper and the search for the pointed leaves of the marijuana went on in ever-widening circles: north past Santa Barbara; east to the Colorado River; south as far as the border. The border was sealed, and it is well known that muggles [an excellent old word for weed] does not grow in the Pacific Ocean. Six months of intensive search, with the cooperation of all local officials and the state police, got absolutely nowhere. The supply continued unabated, and the narcotics squad was convinced that the pushers did not know the source.
Heaven knows how long the situation might have continued if it had not been for Mildred Bugle, thirteen, head of her class in Beginning Botany, Los Angeles High School. One Saturday afternoon she crossed the Plaza, picked some interesting leaves growing around a potted palm, and positively identified them as Cannabis Americana. [not an actual species – which means it might have been a sly joke from Steinbeck]
Joseph and Mary Rivas might have been in trouble but for the fact that the Los Angeles Police Department was in worse trouble. They could not bring him to book. How would it look if the newspapers got hold of the story that the Plaza was the source of supply? That the product had been planted and nurtured by a city employee, freshened with city water, and fed with city manure?"
Joseph and Mary was given a floater so strongly worded that it singed his eyelashes. The police even bought him a bus ticket as far as San Luis Obispo.
Doc chuckled. ''You know. Mack," he said, "you're almost building a case for honesty."
Law & Business
In New York, the first legal cannabis dispensaries are being operated by Native American tribes upstate
https://www.thrillist.com/news/new-york/native-american-reservations-new-york-first-legal-cannabis-dispensaries
& in New Mexico, the governor signed intergovernmental agreements with the Pueblo tribes of Picuris and Pojoaque for their recreational cannabis dispensaries
https://www.marijuanamoment.net/new-mexico-signs-marijuana-agreements-with-tribes-days-ahead-of-legal-sales-launch/
& in related news, a group of 9 senators urged the Attorney General to respect Tribal sovereignty in regards to when they legalize cannabis
https://www.marijuanamoment.net/senators-urge-biden-attorney-general-to-respect-indian-tribes-marijuana-policies/

The IRS is reportedly increasing audits on cannabis businesses after the COVID lull
https://mjbizdaily.com/is-irs-ramping-up-marijuana-business-audits-after-covid-19-lull/
It's especially tough on cannabis businesses because of the notorious Section 280E that doesn't allow companies trafficking in federally illegal substances to claim normal tax deductions. It's one more huge drag on the industry that the SAFE Banking Act is aiming to alleviate. However, there's a great deal of opposition to SAFE because it primarily would help businesses & does nothing to end the greater harms of the War on Drugs. It frees up the money without freeing the prisoners.
Curaleaf named one of the Top 100 Most Influential Companies by Time Magazine
https://time.com/collection/time100-companies-2022/6159442/curaleaf/
"I'm addressing you.
Are you going to let our emotional life be run by Time Magazine?
I'm obsessed by Time Magazine.
I read it every week.
Its cover stares at me every time I slink past the corner candystore.
I read it in the basement of the Berkeley Public Library.
It's always telling me about responsibility. Businessmen are serious. Movie producers are serious. Everybody's serious but me."
- Allen's Ginsberg in 'America'
Our horrid fascination with Gov. Kristi Noem continues as the South Dakota Senate fails to gather enough votes to override her veto of a bill that would automatically remove some cannabis charges from background checks
https://www.argusleader.com/story/news/2022/03/28/legislature-sustains-kristi-noem-veto-expunging-old-marijuana-charges-possession-senate/7171896001/
Wow. But Alabama is really giving her a run for terrible legislation: the Children, Youth & Human Services Committee approved a bill that would require women of childbearing age (25 to 50) to show a negative pregnancy test dated within 48 hours in order to buy medical cannabis
https://www.marijuanamoment.net/alabama-senate-committee-approves-bill-to-force-women-who-want-medical-marijuana-to-show-negative-pregnancy-tests/
Sometimes you read a headline & hope it's an April Fool's joke - but no, a huge cost & hassle forced upon female medical patients in the name of Prohibitionism.
An insightful new report from NORML looks at the best practices for states regulating adult-use cannabis markets
https://norml.org/blog/2022/03/29/new-norml-report-provides-policymakers-with-guidance-on-best-practices-for-regulating-adult-use-marijuana-markets/
After looking at the 18 states who have legalized, they drew these conclusions & encourage federal lawmakers to…
· Repeal federal prohibition through descheduling
· No national traffic safety limits (probably because there is no good way to test for THC intoxication & it becomes a tool for cops to target minorities)
· Provide for automatic expungement & resentencing
· Replace the very high current tax rates with more modest ones
· Do not criminalize underage possession
· Provide labeling & packaging rules
· Consider imposing national lab testing standards
· Create advertising restrictions, but not too strong
· Promote an inclusive workforce (this one is so hard to do & usually gets more thoughts & prayers than actual action)
· Preserve state medical programs (extremely important according to groups like Americans for Safe Access who sees that when states legalize, medical programs often all but disappear & patients are left out in the cold)
· No federal potency caps (these only encourage black market where people can get the strength they prefer. There are no potency caps or limits for alcohol & cannabis doesn't need them either)
· Civil protections for parental custody, employment, housing, professional licensure & healthcare access
The Plant & the History
Hemp seeds, one of the most nutritious snacks in the world, stand out for their mineral content
Mineral elements and related antinutrients, in whole and hulled hemp (Cannabis sativa L.) seeds
https://www.sciencedirect.com/science/article/pii/S088915752200134X
& here's a review of their health-promoting properties
A review on the techno-functional, biological, and health-promoting properties of hempseed-derived proteins and peptides
https://pubmed.ncbi.nlm.nih.gov/35312074/
A wishful review article about using hemp for sustainable bioenergy
A paradigm shift towards production of sustainable bioenergy and advanced products from Cannabis/hemp biomass in Canada
https://pubmed.ncbi.nlm.nih.gov/35342682/
Using hemp nanocellulose for food packaging
Preparation of hemp nanocellulose and its use to improve the properties of paper for food packaging
https://assets.researchsquare.com/files/rs-1249903/v1/e08a6b3d-e13e-4ff2-98d7-9e6ee7ba6035.pdf
A study of what genes activate when a cannabis plant is stressed by drought
Study of Cannabinoids Biosynthesis-Related Genes in Hemp (Cannabis sativa L.) under Drought Stress by in Vitro and in Silico Tools
http://www.biotechrep.ir/article_146584_af28bbcef09da27338b5078f57bc266d.pdf
Medical Cannabis & Culture
On CBD for gamers by Paul James @ High Times
https://hightimes.com/culture/cbd-may-help-boost-cognitive-performance-in-gamers/
It's a stretch to say that we have a lot of science for this - but it's certainly a worthy suggestion that gamers would benefit from CBD – and this article links to some solid studies.
In addition, he turned me onto a list of 15 stoners to follow on Twitch (the video game streaming site):
https://streamsentials.com/stoner-twitch-streamers/
(Now I want to interview one or two of them)
The spice scenes in the new Dune movie were inspired by an intense trip from a cannabis-infused banana cake

feral @ncrmalpeopledenis villeneuve basing the spice visions in dune off a bad trip he had from a marijuana-laced banana cake his son made for him no i adore him
And it turns out that Frank Herbert was inspired by his own experiences with psilocybin mushrooms.
Science
Clinical Studies & Surveys
In a survey of medical cannabis patients in Oklahoma, they found cannabis to provide 'extreme relief' from anxiety, sleep problems, nausea & depression
Characteristics of adults with a medical cannabis license, reasons for use, and perceptions of benefit following medical cannabis legalization in Oklahoma
https://www.sciencedirect.com/science/article/pii/S2211335522000845
In a survey of Greek-Cypriot nurses & midwives, they reported cannabis helpful for a number of conditions including persistent muscle spasms, insomnia, mental health conditions & terminal illness
Greek-Cypriot nurses and midwives attitudes, beliefs and knowledge on medical cannabis: A cross-sectional descriptive correlational study
https://assets.researchsquare.com/files/rs-1400459/v1/9e95c21a-336b-4a9a-ab54-e862c3f63fd0.pdf
In a genome-wide association study (GWAS – where they track how genetic variants are linked to certain outcomes), one variant of CB1 saw a clear link between stressful life events leading to later problematic alcohol use
The cannabinoid receptor-1 gene interacts with stressful life events to increase the risk for problematic alcohol use
https://pubmed.ncbi.nlm.nih.gov/35322131/
There are a number of known variants to the machinery of your endocannabinoid system. In this case, a variant of the CB1 receptor that only differs by one amino acid leads to an alteration in how the endocannabinoids bind to it, and from there, how well you cope with stressful life events & whether they drive you to drink.
All of this sexy deterministic thinking aside, while GWAS may be the hot new tool of the last decade or so, the results must always be met with caution because we are much more than a collection of our individual variants.
In people using cannabis once a week or more, they're at a greater risk for psychosis
Risk-thresholds for the association between frequency of cannabis use and the development of psychosis: a systematic review and meta-analysis
https://pubmed.ncbi.nlm.nih.gov/35321777/
& a review from a task force confirming that the greater the dose & the earlier the age of initiation, the greater the likelihood of psychosis – but they point out that cannabis is just one thread among many
Consensus paper of the WFSBP task force on cannabis, cannabinoids and psychosis
https://pubmed.ncbi.nlm.nih.gov/35315315/
Nobody likes this part. But anyone who denies a real, if small, link between cannabis & schizophrenia is purposely burying their head in the sand.
A retrospective study finds that in people 18-36 years old, cannabis smoking was associated with a 5x risk of acute coronary syndrome (sudden decreased blood flow to the heart, a category including heart attacks)
Relationship Between Marijuana Use and Hospitalization for Acute Coronary Syndrome
https://www.cureus.com/articles/42342-relationship-between-marijuana-use-and-hospitalization-for-acute-coronary-syndrome
In a longitudinal study (where they follow many individuals for years), they found a link between adolescent cannabis use & bipolar disorder – but this might be because of the other drugs they were taking as well
Is Early Exposure to Cannabis Associated with Bipolar disorder? Results from a Finnish Birth-Cohort Study
https://pubmed.ncbi.nlm.nih.gov/35315149/
& in a cohort study (where they track many children), prenatal exposure to cannabis led adolescents to "significantly higher attention problems, externalizing, and total problem scores" but not cognitive performance
Prenatal cannabis exposure predicts attention problems, without changes on fMRI in adolescents
https://pubmed.ncbi.nlm.nih.gov/35314358/
& in a related preclinical study, adolescent mice exposed to vaporized cannabis found that the females saw changes in the architecture of their brain's grey matter while males saw altered functional connectivity in their hippocampus (memory center) as well as deficits in object recognition
Changes in brain structure and function following chronic exposure to inhaled vaporised cannabis during periadolescence in female and male mice: A multimodal MRI study
https://onlinelibrary.wiley.com/doi/abs/10.1111/adb.13169
Is it great to let teens smoke pot? No. Is it terrible? Also no.
Will I let my kids do it? Sure, but I won't encourage them. Anyway, I can't throw stones. The only reason I didn't start smoking at 14 was because nobody offered it to me until I was 18.
In a study of why New Zealand patients used CBD, the primary reason was non-cancer-related pain
Cannabidiol Prescription Requests in NZ: Describing Patients and Indications Seen in a New Zealand Cannabis Clinic
https://assets.researchsquare.com/files/rs-1215517/v1/22708d47-b46d-419e-85d3-b969b76e6c28.pdf
A survey of kidney doctors in Canada find that most are too nervous to prescribe it, but the few that do, do so for pain
Therapeutic Cannabis Use in Kidney Disease: A Survey of Canadian Nephrologists
https://www.sciencedirect.com/science/article/pii/S2590059522000668
Using an app to look at cannabis products for nausea, the most relief was reported for sativas in smokeable form & with higher THC
The Effectiveness of Common Cannabis Products for Treatment of Nausea
https://pubmed.ncbi.nlm.nih.gov/35258504/
For more on nausea, see my science archive here. It does seem like THC is the more important cannabinoid for treating nausea.
In horses, a study to help find the right dosage of CBD for their system
Pharmacokinetics, Safety, and Synovial Fluid Concentrations of Single- and Multiple-Dose Oral Administration of 1 and 3 mg/kg Cannabidiol in Horses
https://pubmed.ncbi.nlm.nih.gov/35307550/
In general, I include these kind of veterinary studies in the clinical section because the interest (& research) in using cannabinoids for companion animals like horses, dogs & cats have been rising sharply the last few years – and who's to say that a horse doesn't have a soul?
Recent Reviews
A look at treating glaucoma with cannabinoids
Cannabinoids as New Drug Candidates for the Treatment of Glaucoma
https://pubmed.ncbi.nlm.nih.gov/35299275/
It's a bit funny that they call cannabinoids new candidates for glaucoma. The first references occurred in the Egyptian papyri three thousand years ago while in the US, the first widely known medical use of cannabis was for treating glaucoma. So much so that it became a standard joke of the late-night circuit. As Conan O'Brien said, "Medical marijuana users are now lobbying for the right to carry firearms. Because no one is a better shot than a stoned old man with glaucoma."
A review on treating cannabinoid hyperemesis syndrome (uncontrolled cyclical vomiting & abdominal pain in cannabis smokers)
Pharmacological management of cannabinoid hyperemesis syndrome: an update of the clinical literature
https://pubmed.ncbi.nlm.nih.gov/35311429/
Unfortunately, the science on this strange syndrome mostly consists of isolated case studies & reviews like this one that just suggest the basics already figured out by patients: hot baths & capsaicin cream. To stay current, your best bet is following the journalist Alice Moon.
A book chapter in 'Clinical Pain Management' on using the cannabinoids for pain
Cannabis and cannabinoid for pain
https://onlinelibrary.wiley.com/doi/10.1002/9781119701170.ch20
& a review article on cannabinoids & pain with a more neurochemical focus
Chronic Pain and the Endocannabinoid System: Smart Lipids – A Novel Therapeutic Option?
https://www.karger.com/Article/FullText/522432
A review of how the endocannabinoids work with the brain's astrocytes (the most numerous cells in the CNS, these support cells help to guide the formation of axons, protect the synapses, modulate neuroinflammation & control the blood-brain barrier as well as the release of neurotransmitters)
Astroglial cannabinoid signaling and behavior
https://pubmed.ncbi.nlm.nih.gov/35293647/
A review of why THC mixed with alcohol leads to compounded cognitive impairment
Concomitant Δ-9-Tetrahydrocannabinol and Alcohol Use: Impact on Cognitive Function and Ingestive Behavior
https://link.springer.com/referenceworkentry/10.1007/978-3-030-67928-6_150-1
I mean, yes – but if you get that combination just right, #bliss.
A review of the use of the cannabinoids against cancer, neurodegeneration, dermatological diseases & viral infections
Cannabinoids: Therapeutic Use in Clinical Practice
https://pubmed.ncbi.nlm.nih.gov/35328765/
A review looking at the cannabinoid's differential effects on cancer via the miRNAs (short strings of RNA used to silence genes)
Interplay between the Cannabinoid System and microRNAs in Cancer
https://pubs.acs.org/doi/full/10.1021/acsomega.2c00635
& a review of using CBD as a support drug for cancer
Does Cannabidiol Have a Benefit as a Supportive Care Drug in Cancer?
https://pubmed.ncbi.nlm.nih.gov/35316478/
& a review of the evidence on using cannabis against cancer in young people
Medical Cannabis in Pediatric Oncology: Friend or Foe?
https://pubmed.ncbi.nlm.nih.gov/35337156/
& a related study in prostate cancer cells on the presence & binding properties of cannabinoid receptors
Non-Canonical Cannabinoid Receptors with Distinct Binding and Signaling Properties in Prostate and Other Cancer Cell Types Mediate Cell Death
https://www.mdpi.com/1422-0067/23/6/3049
& in lung cancer cells, CBD reduced tumor progression, suppressed cancer stem cells & caused apoptosis (cellular suicide)
Cannabidiol Inhibits Tumorigenesis in Cisplatin-Resistant Non-Small Cell Lung Cancer via TRPV2
https://pubmed.ncbi.nlm.nih.gov/35267489/
Preclinical Research
In neuronal cells, CBG slows sodium channels & leads to decreased excitability, suggesting its use as a painkiller
Inhibition of sodium conductance by cannabigerol contributes to a reduction of dorsal root ganglion neuron excitability
https://pubmed.ncbi.nlm.nih.gov/35297036/
In a mouse model of Alzheimer's, a drug that blocks both the FAAH & MAGL enzyme lowered neuroinflammation, oxidative stress & levels of amyloid β plaques but did not show cognitive improvements
Effect of the MAGL/FAAH Dual Inhibitor JZL-195 on Streptozotocin-Induced Alzheimer's Disease-like Sporadic Dementia in Mice with an Emphasis on Aβ, HSP-70, Neuroinflammation, and Oxidative Stress
https://pubmed.ncbi.nlm.nih.gov/35316021/
In male rats, the effects of the painkiller tramadol seem to be mediated by the CB1 receptor & an orexin receptor
Effects of selective orexin receptor-2 and cannabinoid receptor-1 antagonists on the response of medial prefrontal cortex neurons to tramadol
https://pubmed.ncbi.nlm.nih.gov/35313383/
A study of human & monkey brains looks at the distribution of CB1 receptors across the highest levels of the brain
Cell Type Specific Cannabinoid CB1 Receptor Distribution Across the Human and Non-Human Primate Cortex
https://assets.researchsquare.com/files/rs-1451626/v1/9699fd25-c345-42eb-bb98-3dfdfcc96582.pdf
Intriguingly, they found more CB1 receptors in the inhibitory axon terminals, hinting at the ability of cannabinoids to calm the brain.
In a rat model of seizures, beta-caryophyllene (a predominant terpene of cannabis) reduced seizures, improved behavioral recovery & protected against blood-brain barrier breakdown
Beta-caryophyllene attenuates short-term recurrent seizure activity and blood-brain-barrier breakdown after pilocarpine-induced status epilepticus in rats
https://pubmed.ncbi.nlm.nih.gov/35300975/
& in male mice exposed to the toxic metal cadmium, beta-caryophyllene protected them from testicular alterations as well as their sperm's morphology, mobility & concentration
Potential protective effect of beta-caryophyllene against cadmium chloride-induced damage to the male reproductive system in mouse
https://pubmed.ncbi.nlm.nih.gov/35318111/
See the Living Glossary below for the new entry on beta-caryophyllene.
In a mouse model of diabetes, 2-AG protected their heart & improved cardiac function
2-Arachidonoylglycerol Attenuates Myocardial Fibrosis in Diabetic Mice Via the TGF-β1/Smad Pathway
https://pubmed.ncbi.nlm.nih.gov/35305183/
In mice taking a strong activator of the CB1 receptor for 5 days, it profoundly altered their sleep as they began it & saw sleep disruptions when they stopped taking it
Altered sleep during spontaneous cannabinoid withdrawal in male mice
https://pubmed.ncbi.nlm.nih.gov/35288510/
A big study of the machinery of the endocannabinoid machinery across the entire phylum of nematodes (roundworms)
Pan-phylum In Silico Analyses of Nematode Endocannabinoid Signalling Systems Highlight Novel Opportunities for Parasite Drug Target Discovery
https://www.biorxiv.org/content/10.1101/2022.03.09.483626v1
For anyone with memories of high school biology, the roundworm Caenorhabditis elegans is one of the key model organisms for studying the basic biochemistry of life. The ECS has been extensively studied in C. elegans but this study expands it out into the entire roundworm family.
Cannabinoid Chemistry
A nanocrystal delivery system for CBD that allows it to be injected with greater bioavailability
Enhanced Intramuscular Bioavailability of Cannabidiol Using Nanocrystals: Formulation, In Vitro Appraisal, and Pharmacokinetics
https://pubmed.ncbi.nlm.nih.gov/35288801/
There's so much work on nano-CBD in various forms – and most of it is a waste of time. For oral delivery, yes, the bioavailability of CBD isn't great, but that's true for most things we take orally. With CBD, you can just take more. The plant makes it easily & cheaply. You don't need fancy nano-liposomal-buzzword CBD. Anyway, the majority of companies don't make nano-CBD right anyway & it just goes back to being regular CBD. But for certain conditions like epilepsy where you need huge amounts, this nanocrystal injectable form is intriguing.

& here's another cool nanoparticle made of PEA that they're testing as a treatment for sarcopenia (a loss of muscle mass)
Design, Characterization, and In Vitro Assays on Muscle Cells of Endocannabinoid-like Molecule Loaded Lipid Nanoparticles for a Therapeutic Anti-Inflammatory Approach to Sarcopenia
https://pubmed.ncbi.nlm.nih.gov/35336022/
In a study of the two most well known ATP-binding cassette (ABC) transporters (membrane proteins that help move drugs & other big molecules into the cell), cannabichromene (CBC – a minor cannabinoid) did not alter the ABC transporters but cannabichromenic acid (CBCA – the acid version of CBC) binds to ABCB1
In vitro evaluation of the interaction of the cannabis constituents cannabichromene and cannabichromenic acid with ABCG2 and ABCB1 transporters
https://pubmed.ncbi.nlm.nih.gov/35306000/
The ABC transporters might best be viewed as loading docks in the walls of the cell. That CBC does not bind to them is a good thing because then it doesn't get in the way of other drugs that use this entry point. Meanwhile, CBCA gets stuck in ABCB1 like an elephant in a small tunnel.
For structure-function nerds, here's a look at the hunt for partial agonists of CB2
Elucidation of Partial Activation of Cannabinoid Receptor Type 2 and Identification of Potential Partial Agonist: Molecular Dynamics Simulation and Structure-Based Virtual Screening
https://assets.researchsquare.com/files/rs-1439585/v1/a7ccfae5-ef40-45eb-9e0c-eebcfa887658.pdf
An agonist is a molecule that binds to a receptor & activates it. A full agonist activates it all the way while a partial agonist causes a less strong reaction. For humans doing drug discovery, it's easier to create full agonists that hit hard than to create partial agonists with a more nuanced response.
There's a metaphor in there somewhere…
Massive DNA sequencing of cannabis chloroplasts (energy cells) to assist in DNA barcoding for drug trafficking investigations
Massively parallel sequencing of Cannabis sativa chloroplast hotspots for forensic typing
https://pubmed.ncbi.nlm.nih.gov/35300721/
I don't like why they're doing it – but it's cool what they're doing.
Since 1969 we wondered: how does the plant produce THC Acid B? But now we have a good guess…
Delta-9-Tetrahydrocannabinolic Acid B: A Mechanism for its Formation in Cannabis
https://pubmed.ncbi.nlm.nih.gov/35290744/
Also, since 1969 we have wondered what happened with Edward Kennedy at Chappaquiddick & how did the Air Force close Project Blue Book with a conclusion of no evidence?
(hints of my other areas of focus)
Plant Medicines & Psychoactives
A randomized controlled trial showing the ability of psilocybin to enhance creativity
Spontaneous and deliberate creative cognition during and after psilocybin exposure
https://pubmed.ncbi.nlm.nih.gov/33833225/
But as the neuroscientist (& future Lex Files guest) Dr. Arne Dietrich points out, we don't actually have any good scientific measurements for creativity. That being said, this study tries to confirm scientifically that which is quite clear experientially.
In strange reports from Oregon, after eating magic mushrooms that grow on wood, people develop 'wood-lovers paralysis'
https://www.businessinsider.com/psychedelic-magic-mushroom-psilocybin-wood-lovers-paralysis-symptoms-2022-3
Great & important thread from Dr. Sarah Axelrath on the harm reduction aspects of using heroin versus fentanyl

Sarah Axelrath, MD @DrSarahAxelrathI was talking to a patient recently about her different experiences using heroin vs fentanyl. She's been using opioids a long time. Too long, by her count. She explained the difference to me like this (shared with permission): 1/x
Meanwhile, John Oliver had a great segment on harm reduction
In a trial of 99 adults with severe PTSD, MDMA significantly reduced eating disorder symptoms (a common comorbidity)
MDMA-assisted therapy significantly reduces eating disorder symptoms in a randomized placebo-controlled trial of adults with severe PTSD
https://pubmed.ncbi.nlm.nih.gov/35272210/
On the history of how the name 'entactogen' for the drug class of MDMA came to be, by the person who coined it, Dr. David Nichols
Entactogens: How the Name for a Novel Class of Psychoactive Agents Originated
https://www.frontiersin.org/articles/10.3389/fpsyt.2022.863088/full
A review of mystical experiences from psychedelics & what might predict them
Predictors and potentiators of psychedelic-occasioned mystical experiences
https://akjournals.com/view/journals/2054/aop/article-10.1556-2054.2022.00198/article-10.1556-2054.2022.00198.xml
In mice with stress from being restrained, LSD decreased stress levels, enhanced serotonin transmission & protected the brain from the decrease of cortical spine density caused by the stress
Repeated lysergic acid diethylamide (LSD) reverses stress-induced anxiety-like behavior, cortical synaptogenesis deficits and serotonergic neurotransmission decline
https://pubmed.ncbi.nlm.nih.gov/35301424/
Thanks.
- lex
PS: This week's scintillating album is 'Natural Elements' by Shakti. A fusion band of high-energy jazz & South Indian music, Shakti brought together an English guitarist (John McLaughlin) with famed Indian players of the violin, tabla & ghatam (Lakshminarayana Shankar, Zakir Hussain & Vikku Vinayakram respectively). Released in 1977, this album was an influential pioneer in the 'World Music' movement & as one reviewer stated, "It does not matter if you live in Boise, Chennai or Rio. You should try to start each day with a smile. If you need some help doing that, simply play this tune."
XXXXXXXXXXXXXXXXXXXXXXXXX
The Living Glossary
Here's a running glossary of the basic cannabinoid terms. This will also function as the legend for the 'neural ocean' metaphor that I'm using in my graphic novel series on the endocannabinoid system based on Moby-Dick. You can watch a lecture laying out the full idea here, but basically, we treat the human brain like the ocean: both deep, mysterious & chockablock with fish & feedback systems that we don't understand.
Endocannabinoids are whales. Phytocannabinoids are elephants (because what is an elephant but a whale of the land). And neurons are complex underwater cities where hundreds of fish interact.
Endocannabinoids
The cannabinoids found inside all mammals & almost every other form of life besides insects
The Endocannabinoids System (ECS)
One of the most widespread signaling systems in the human body & brain - but only first discovered in the early '90s. Unlike most of the classical neurotransmitters, endocannabinoids are lipids, or fats. This makes them slippery, hard to study & a supremely sensitive signaling system because of the ability of cells to detect minute changes in lipid levels & act accordingly. Intimately connected to the immune system, the neuronal system & the hormonal system, as one old scientist said to me in his cups, "If you told me that the endocannabinoid system is where the body meets the soul, I'd believe you."
Anandamide (AEA) [Our Great White Whale]
The first endocannabinoid neurotransmitter ever discovered. Widespread in the human brain & produced 'on-demand' when needed. Appears quickly, broken down quickly. Often called the neurotransmitter of balance.
[in our neural ocean metaphor, the sperm whale]
FAAH (fatty acid amide hydrolase)
The enzyme that breaks down anandamide & a frequent target of drug discovery for modulating the endocannabinoid system. If you inhibit the FAAH enzyme, it does less breaking down of AEA, and your AEA levels rise. More balance.
[the giant squid that slices sperm whales in half]
CB1
The first endocannabinoid receptor discovered. Mediates the psychoactivity (getting high feeling of THC). Most importantly, it's the most widespread receptor of its class in the human brain.
[the bar in the membrane wall of the neuronal city where endocannabinoid whales meet with messenger fish to pass on their messages into the interior of the cellular city]
2-AG
The second endocannabinoid neurotransmitter discovered. Only 2-AG & AEA have been well studied (thousands of research papers)
[blue whale]
MGL (monoacylglycerol lipase - also sometimes abbreviated as MAGL)
The enzyme that breaks down 2-AG. Another frequent target of drug discovery because inhibiting MGL raises 2-AG levels
[a giant squid that eats blue whales]
CB2
The second endocannabinoid receptor discovered. Found in almost every organ of the body & closely connected to our immune system. The CB2 occurs at low levels in the brain where it responds to neural insults.
[a gay bar in the membrane wall of the neuronal city]
Palmitoylethanolamide (PEA)
An endogenous fatty acid amide whose only reason for not being labeled as a classic endocannabinoid is because it doesn't bind to the CB1 or CB2 receptor - but it's a hugely important neurotransmitter found in every cell of the body. A long body of work stretching back to World War 2 has found it to be an amazingly safe & effective drug for a number of things related to the immune system. Available as a dietary supplement, this is one of the best-studied cannabinoids in humans. Highly recommended.
[North Atlantic Right whale of course. Just look at that grin…]
Oleamide (OEA)
An endocannabinoid related to sleep. They discovered it by keeping cats awake for 3 days & then analyzing their spinal fluid. You can buy it on Amazon. 2 scoops helps you to sleep while 6 scoops is a very pleasant psychoactive experience (Hamilton Morris has called it his favorite way to get high - which is saying something)
[Humpback whale, because it sings hippies to sleep]
Phytocannabinoids
The cannabinoids produced by the cannabis plant.
THC (tetrahydrocannabinol)
The well-known & well-studied molecule in cannabis that gets you high - and helps in a number of other fascinating ways.
[African elephant. Powerful, unpredictable, beautiful]
CBD (cannabidiol)
The cousin of THC that does not get you high but does a lot of the heavy lifting in why hemp has been such a staple of medicine since before recorded history. In most plants outside those bred for the recreational market, CBD is the most common cannabinoid. It binds to a wide swathe of receptors outside the endocannabinoid system including three serotonin receptors, two opioid receptors, a dopamine receptor as well as glutamate & GABA (the two most widespread neurotransmitters, the basic neuronal signals for excitation & inhibition, respectively)
[Indian elephant. sweet, gentle, you can work with it]
CBC (cannabichromene)
The third most common cannabinoid in the plant, it's not well studied in humans despite a number of intriguing preclinical studies, especially as an anti-inflammatory and for pain. Nonpsychoactive, it interferes with the breakdown of AEA & 2-AG (leading to a rise in their levels) as well as interacting with the vanilloid receptors.
[Sri Lankan elephant. Little, sweet, not as well known as it should be]
Beta-caryophyllene (BCP)
A terpene that's also a cannabinoid.
The terpenes of cannabis give the plant its smell. Also found in oregano, black pepper, lavender & hops, beta-caryophyllene has a spicy sweet woody smell. But unique among terpenes, this one also binds to the CB2 receptor, making it a dietary cannabinoid. It shows potential for treating inflammation, pain, anxiety & seizures. The FDA has designated it to be GRAS (generally regarded as safe) & thus it can be safely used as a food additive.
[a terpene/cannabinoid that travels through the air? That could only be a flying elephant]